Decarbonation and Carbonation of Liquid Products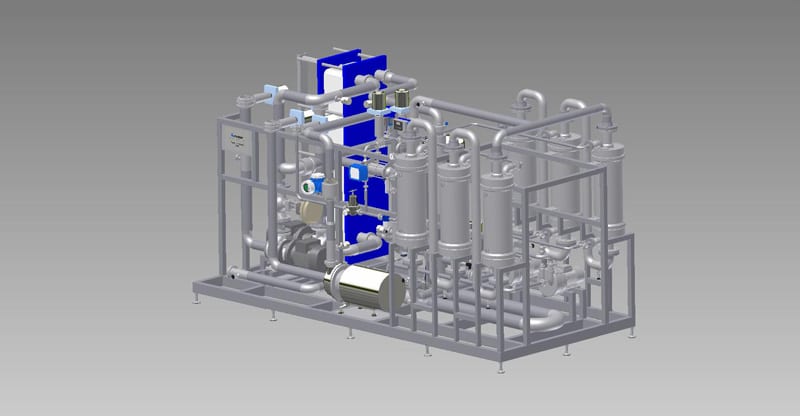 The DeCarbonator is used for continuous adjustment and especially reduction of the CO2 content of liquid food and beverages such as beer, sparkling wine and soft drinks.
Highly efficient membrane modules allow the CO2 concentration to be increased and decreased with extraordinary accuracy. At the same time the oxygen content is reduced. Each module contains thousands of hydrophobic, gas permeable hollow fibre membranes resulting in a large surface. This large surface maximizes the transfer area and the contact time between product and gas.
While CO2 is applied on the inside of the hollow fibres, the product flows in counter current between them on the outside. Depending on the CO2 partial pressure difference between product and gas, the CO2 permeates through the membranes either out of the membranes into the product or out of the product into the membranes.
The CO2 content of the carbonated product is permanently monitored by a high precision CARBOTEC sensor made by Centec. Based on this inline measurement, the CO2 flow is fully automatically adjusted.
Capacity

53 - 53,000 gal/h (2 - 2,000 hl/h)

Dosing Range CO2

0.07 - 1.34 oz/gal (0.5 - 10 g/l)

Dosing Accuracy CO2

±0.013 oz/gal (option: ±0.007 oz/gal) (±0.1 g/l (option: ±0.05 g/l))

Material

1.4301/AISI 304; 1.4404/AISI 316L; etc.

Options

in-line O2 measurement
nitrogenation
buffer tank
cooling
High precision CARBOTEC CO2 sensor for process control
Membrane modules for adjustment of CO2 and reduction of O2 content
Customized design; different automation levels