Our butterfly valve portfolio has a product solution for every need. Manufactured to exacting standards, an extensive range of options and variations are available for any requirement. Available in Metric, Imperial, DIN (DN), EN, ISO, ANSI, and other sizes.
Connection variants:
Welding ends.
Male, liner.
Between flanges.
Clamp connections.
Threads: SMS, IDF, RJT and DS.
Materials:
AISI 304 (1.4301/1.4307)
AISI 316L (1.4404/1.4435)
Gaskets:
VMQ, EPDM, FPM, NBR, HNBR.
Actuators:
Handle actuators available in several variations:
Automatically arresting.
Different feedback units.
Scissors.
Stepless adjustable.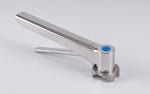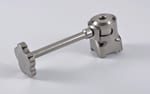 Pneumatic actuators (PAMS) are available in three torque pattern variants (optional with control units TOP09/ ASI-BUS).
Using an optimized rotor, Centec pneumatic actuators feature a compact construction and increased torque. Compared to the competition, this allows for reduced cylinder capacity, and 50% reduction in air consumption per cycle.
Stainless steel actuator features:
Smaller and lighter type of construction.
Less air consumption.
Increased torque.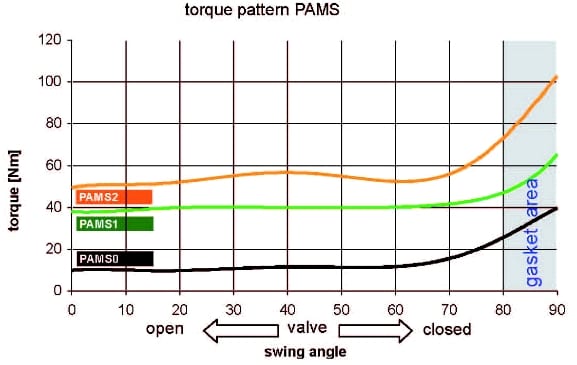 Also available is the innovative pneumatic plastic actuator: PAMS08. This acutation has been a cost effective alternative to stainless steel actuators for over 10 years.
The pneumatic plastic actuator PAMS08 is an alternative to stainless steel actuators, with same functions and equal guarantee. Therefore you have a further option in the butterfly valve segment.
Plastic actuator features, as compared to the equivalent stainless steel models:
Light weight product.
Same functions and guarantee.
Cost savings of up to 40%.
Meets or exceeds the requirements of the European PED Approved Quality standard.
Proven reliability with over 300,000 units in active use in the market.
Upgradable with our approved control unit: TOP09.
Contact us for more products like this!
Centec is a complete solution provider for the brewery, food, beverage, and pharmaceutical industry. Please contact us if you have any questions about the items we offer.