Automated Sampling System
The Simplex 2700 system is a fully automated and CIP compatible sampling system designed for accurate testing against the possibility of bacteria.
A benefit of the fully automated system is that you can minimize the hazard of a secondary infection, and costly mistakes made during handling.
The sampling bottles are sealed by a membrane on top that can remain in place from autoclavation through the incubation process, minimizing any hazardous exposure to personnel. For fast and easy maintenance of sampling bottle membranes, we offer industry exclusive membrane exchange equipment.
Fully automated sampling provides for a flexible and easy to program sampling frequency for a comprehensive and accurate analysis of the entire batch. The sampling system can be controlled by a separate control unit or integrated with your own PLC.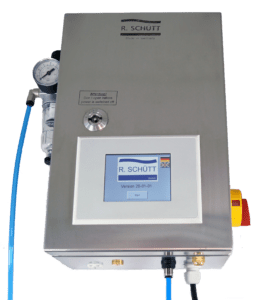 A variety of essential sensors are available for automated PLC controlled systems:
Stericap closed (for CIP cleaning)
Sample flask present
Flask filled
Sampling valve open or closed
An option of the sampling system with an additional hand lever is also available for manual sampling, and easy release of condensed water.
Contact us for more products like this!
Centec is a complete solution provider for the brewery, food, beverage, and pharmaceutical industry. Please contact us if you have any questions about the items we offer.